Welcome to USA-OKO.com.  This is Mid-Atlantic Trials' website for information and sales of the OKO K series or "D" slide  carburetors.  We are an authorized distributor for the OKO factory in Taiwan.  All of our carburetors and carburetor parts come directly from the OKO plant.  Below you will find carburetors and carburetor kits we have developed after testing the K-Series on the various models listed.  As we fit the OKO K-Series to more bikes,  this list will continue to grow.   These "D" slide carburetors are performance carburetors and produce more usable power and better throttle response across the the full throttle range than  round slide carburetors.  All carburetors, kits and accessories listed below are in stock and will usually be shipped within 24 hours of placing an order.  All items are shipped via Priority Mail from Mid-Atlantic Trials, located in New Windsor, Maryland.  If you live nearby you can drop off your bike and we will fit and dial in your OKO free of charge.  We are especially looking to fit the OKO to bikes not on our list. We offer a 30 day guarantee on all our carburetors, and if you are not satisfied with its performance, simply return it to us for a full refund.  If you have any questions, you can e-mail me at:  midatlantictrials@comcast.net, or call Roger at 410-635-6722




We currently carry, in stock, the K series of OKO carburetors in these sizes:

19mm (used primarily for engines under 100cc)

21mm (used for many 100 to 125cc trials and trail bikes),

24mm (used for many 175 to 200cc trials and trail bikes),

26mm (used for many 250 to 300cc trials and trail bikes),

28mm (used for many 325 and larger trials, trail and road bikes)

30mm (used for many 325cc and larger trail and road bikes for those wanting more top end)

32mm (used for many 250cc scrambles/crosscountry bikes)

34mm (used for many 350cc scrambles/cross country bikes and 250cc motocross bikes)

36mm (used for many 400cc and larger scrambles/cross country bikes and 350cc motocross bikes)

38mm (used for many 350cc and larger motocross bikes)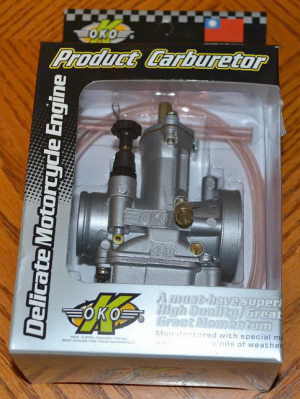 Below is a list of motorcylce makes and models we have fitted with OKO K series carburetors.  As we fit more makes and models we will be expanding this list.  Clicking a button below will take you to the kits we offer for that particular make of motorcycle.

Please note:  This site is currently under construction.  To order an OKO carburetor or accessory, please visit
www.Mid-AtlanticTrials.com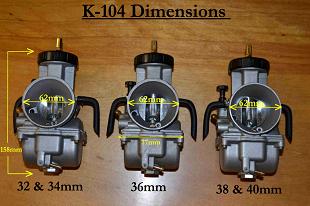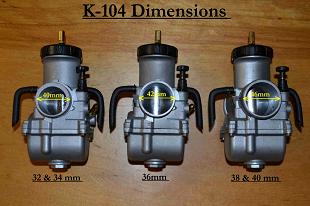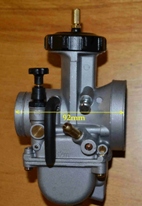 Click on the photos below for larger photos and dimensions of the K-104 series (32mm-40mm)

For much more information and to purchase an OKO carburetor, kit, or accessory, please visit our sister site at

Note: If you have purchased an OKO that does not have the Taiwan flag on the box, it is a Chinese copy and may prove impossible to tune

Please note:  This site is currently under construction.  To order an OKO carburetor or accessory, please visit
www.Mid-AtlanticTrials.com